I am no
t
a fan of shoe shopping. Don't get me wrong, I love shoes just as much as any girl, my feet however, have a right to feel otherwise. I hate when shoes cause pain. It is so incredibly cruel and unfair. I've had my heels torn up countless times- really, that is my main problem area. If I have to, I can deal with my toes being pinched- but anything that gets rubbed enough to cause blood and/or blisters, I won't stand for (call me crazy). This makes shoe shopping so hard. Flats are the most important shoe for me, but the hardest to find, comfortably speaking.
I recently
came a
cross these by Marc Jacobs. Quite over my budget, and perhaps a tad too trendy (I can't even remember the last time I've liked something with those grommet things), so I'd like to create my own version. And add a very important sole insert haha. Anyway I can't find a
sim
ple ballet slipper anywhere! I've tried payless (What happened? They
always
carried dance shoes like these..), I tried to find a Sam & Libby website but could not, and I tried Zappos:
That is the closest thing I could find! It's pretty overpriced for what it is, and for this project ($93.00)..and I like how the MJ ones are chic-ly thin and
e
ffortless. ANY
I
DEAS ON WHERE TO FIND A PINK BALLET SLIPPER?
Also this is my current Anthropologie lust: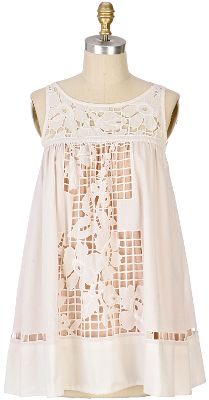 It's by
Tracy Reese
and is lined in silk and would probably go quite well with those shoes.